Content owners are only too aware that there are three ways to maximise the profits of their content, increase the cost of the content, decrease the distribution costs or deliver the content to a wider audience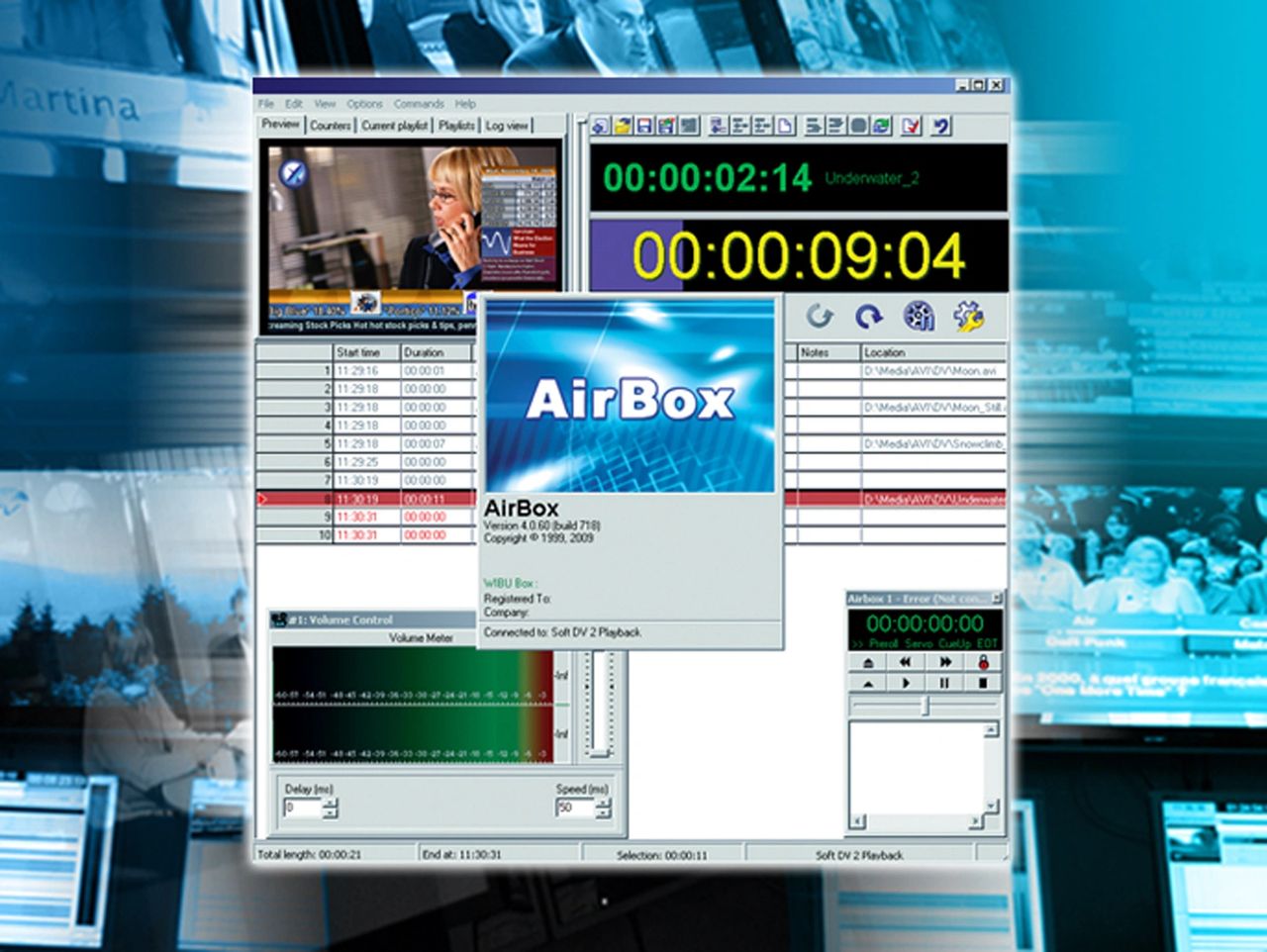 PlayBox Technology AirBox
In the current climate increasing content costs is very difficult and even if possible these revenues can be maximised by cutting delivery costs and delivering to a wider audience.
Satellite and Fibre link costs can be prohibitively expensive where the content owner locally brands the material themselves before delivering to the local market and using the services of multiple playout centres around the world to locally brand the content for the specific market can be even more expensive as well as not allowing flexibility.
Reaching new markets and locally branding in markets where there is an unbranded general feed will increase viewers and advertising revenues
Built in conjunction with FOX International Channels Italy and nicknamed "FoxBox" allows content owners s with one to a bouquet or more channels played out to their local market to deliver locally branded content with local advertising, branding, multilingual audio and subtitles to any market worldwide.
PlayBox Technology Clients' are successfully launching locally branded channels throughout the world in a tapeless operational environment that can be fully integrated into the current or preferred Traffic, Storage, MAM, Ingest, Transcoding and File Transfer Systems or these systems can be provided by PlayBox Technology at your price to fit your budget.
This White Paper sets out to explain the workflow and the processes involved for remote playout anywhere in the world with public internet.
Workflow Description
Daily Playlists are created in the Traffic System that is integrated with MAM. The Daily Playlists are sent to the remote AirBox Systems located anywhere in the world and converted where necessary to PlayBox Technology PLY playlist format.
Every file that is transferred is checked at the remote location to match the original file using error detection algorithms and then sent to AirBox, so that in the unlikely event a file is corrupted during the transfer this will not affect the output of both AirBox Playout Servers.
PlayBox Remote Service Application will check the media required in the playlist and will search for the media locally. If the media is not available locally it will generate a Missing Items List that is sent back to the MAM System to request the Media Files and Subtitle Files for Play out. If the Media Files are still not online the Remote Service Application will resend the Missing Items List at regular intervals if the media that is still missing.
When the MAM System receives the Missing Item List it will first check to see if the media is available in the correct delivery format for the remote location. If not the MAM System will next check to see if the media is available in the Hi Res media format.
If the media is available in the Hi Bit Rate format then the MAM System will send the media to the File Transcoding System to be transcoded to the correct delivery format. Once the media is transcoded it is delivered to the remote location and distributed to both Master and Redundant AirBox Servers.
Where the media is not available in either format a capture list is generated by MAM to ingest the media that is then transcoded and sent to the remote location in the normal way
AirBox can have one of a number of logos on the screen at any one time and can be scheduled on or off. For animated logos or more advanced graphics and CG, including interactive graphics like SMS to screen, voting, gaming, crawls etc. then TitleBox can be added to the Playout Server.
TitleBox can be scheduled in the usual way in the Traffic System and many different Projects and Templates can be created using TitleBox Preparation and sent to the AirBox / TitleBox Server for playout
Once playout has happened, AirBox creates the "As Run Logs" and these are converted to the appropriated Traffic format if needed and sent back to the Traffic System for billing and other purposes
PlayBox SafeBox is installed on each AirBox Server that will transfer media arriving on the local File Transfer Server to the local AirBox hard disk drives. SafeBox also scans the Daily Playlists and the local drives to see if any of the locally stored media can be deleted. Depending on operational requirements the media is usually deleted if not required after 7 days from playout. Should the media be required again in the future this can be transferred from the File Transfer Server or from MAM in the normal way for new media.
If the remote playout location does not need some of the media for future playout a Purge List can be sent to a remote location and the media will be removed from the File Transfer Server and both AirBox Servers if the media was not already removed by SafeBox
Remote Playout System
The heart of the playout system is two AirBox Servers with triple redundant PSU's the outputs are connected to a Smart Switch that monitors each output and if the Main Server should fail in either Video or Audio and the Redundant Server is available it will switch to this server.
The Smart Switch has dual redundant power supplies. In addition to the Smart Switch there is Relay Bypass in case of power failure to allow switching the main server output to the TX path. The relay bypass can also be switched remotely if there is a signal path failure.
Remote Monitoring
Remote monitoring is vitally important especially where the channel cannot be viewed by backhaul. Monitoring of the AirBox, TitleBox, Smart Switch and the server hardware is done by SNMP that will send alarms if anything should happen. All the Remote Servers are also connected to VPN and can be accessed remotely from anywhere in the world according to rules defined in the Firewall.
For remote Video and Audio Monitoring there are three SlingBox units that are connected to the output of each server and the main output of the Smart Switch this will enable the broadcast centre or support centre to see any problems remotely.
Local Monitoring and Control
At the remote location there is optionally an amount of equipment for local control and monitoring in case of a catastrophic failure. There is a 2RU Video and Audio Monitor Unit that can be switched between the Main and Redundant playout servers and the main output of the Smart Switch and a KVM Switch attached to a 1RU Keyboard, Monitor and Mouse. This monitoring is also useful during installation and setup of the systems and any future on-site maintenance visits
Security and Firewalls
Security is of paramount importance in any remote playout system and PlayBox recommends that the best firewall security is used. While most Broadcast Centres will have their own Firewall and most head ends will also have their own firewall, we recommend that there is a separate firewall for each channel or group of channels at each remote location.
As the firewall is connected to internet, this can be remotely updated as required
File Transfer Servers and File Transfer Agents
The Content owners Broadcast Centre is connected to each remote location via an File Transfer Server and a Firewall at each end that can include a File Transfer System Agent to speed up file transfer times, include multiple internet paths and to check file validity.
Local Commercials and Content and QC
Where the channel with have Local Commercials and Some Locally Produced Content this can be Ingested Locally and sent to the Broadcast Centre. Where only commercials are involved this can be sent by High Res Format to the Broadcast Centre for Quality Control and stored on the MAM for the usual process of Transcoding and Transfer to the Remote Playout systems.
Where a small amount of local content is required this can be treated in the same way as commercials. Where more content is required this can be transcoded locally into the playout file format for the channel and sent to the Broadcast Centre for quality control before being sent to the MAM system for transfer to the remote playout system
This does mean that the content will actually travel back and forth to the remote playout location, but this is the best solution to enable quality control to give the highest reliability.
Subtitles
Subtitle files can be produced in the usual way, or if the playout format of the content chosen is relatively small, then these files can be sent by FTP to the country of playout to be translated and the subtitle files prepared.
PlayBox SubtitleBox, which is installed on each AirBox Server, can receive subtitle files from most subtitle preparation systems and transmit them as open subtitles during transmission
The playout of subtitles is automatic and programmes to be transmitted with subtitles will be flagged if the subtitle file is missing. Subtitle files are automatically checked for correct duration and subtitle in out errors.
PlayBox SubtitlePlus DVB supports BVB subtitles and multiple languages are also supported.
Multi Language Channels
PlayBox can handle multi Audio tracks for playout. Where the content received has these tracks present the process is straight forward.
Where the multi lingual tracks are not present and need to be added PlayBox can work with Video AVI Files and separate Audio WAV files. WAV files can be created and edited using simple Audio Tools and once completed multiple Dual Audio or Stereo WAV files can be playout out.
Designed Reliability - No Single Point of Failure
PlayBox Systems are inherently reliable and the Fully Redundant Remote Playout Systems benefit from this fact. All remote systems can be designed and installed to have no single point of failure if required.
Even during loss of internet, File Transfer Server or Firewall, as the media is stored on the local playout server hard drives a week or more in advance, playout is assured and this equipment can be repaired at relative leisure
Remote Media Format
The media format used at the remote location can be decided on a number of factors like the amount of new media per day, the bit rate chosen for playout and the available internet capacity. MPEG2 IBP at 10Mbps is often chosen, however H.264 at 4Mbps or less is also chosen as a very good alternative. The bit rate chosen is really customer choice.
Remote and Local Support
PlayBox Technology has one of the most advanced remote support systems for a playout in a box manufacturer in the world. Each PlayBox module has a "PlayBox Doctor" that is a very powerful aid to fault finding most problems remotely.
As these systems are installed in remote locations and connected to internet, PlayBox Technology can, with authorisation, log on remotely, find and resolve the problem very quickly.
PlayBox Technology has 8 Country Offices and over 100 dealers and System Integrators in 60 Countries worldwide. Most dealers are factory trained by PlayBox Technology and will support system in their regions
Installation
PlayBox Technology has a Broadcast Systems Division that is experienced in installing, setting up, testing and commissioning the Fully Redundant Remote Playout Systems and integrating the systems with the content owners Broadcast Centre and optionally their Monitoring or Disaster Recovery Centre.
PlayBox Technology staff has experience with both Broadcast and IT as both competences are essential for a successful project implementation.
Training
Training is a vital part of the reliability process. PlayBox Technology recommends that the Content Owners Broadcast Centre Staff are trained in all aspects of the Remote Playout System. Head End staff need only basic training as it is unusual that any action will be required from them.
PlayBox Technology offers chargeable on-site training for both operators and engineers at the customers operational centre and any other monitoring centre or disaster recovery site or we can offer Free of Charge Training at our R&D Centre.
Compliance Recording
Compliance recording is mandatory in many countries around the world and is also important to have in programme or advertising disputes. It is also a good aid for fault finding in remote playout systems.
CaptureBox Compliance is able to record 30, 60, 90 or more days with time stamp at low bit rate. These files are recorded in one hour blocks that are easily retrievable over internet for viewing.
Integrating To Your Systems
PlayBox Technology has 6,000+ playout and branding systems in 100 countries and in consequence we are often asked to integrate to other systems. While we cannot promise we can integrate to every system on the market we are able to integrate to most of the common ones.
More Cost Effective Solutions
While the Fully Redundant Automatic Remote Playout System is designed to allow Broadcasters to operate, monitor and control from one to hundreds of systems worldwide with ease, PlayBox Technology also has hundreds of AirBox Servers installed in head ends around the word and remotely operated by VPN.