A detailed guide on launching an ad network is available at Payment system integration.

You can read more for the DPS option following the link.
Pricing model
The partnership between publishers and advertisers is defined by the pricing model for the services they specifically pay for. The amount that advertisers pay is referred to as a rate. When the ad server must choose one campaign or ad to display from a large pool of candidates with comparable targeting, the rate might function as a bid in an auction.
Every advertising campaign must have a predetermined rate and price structure (in our case this should be done while creating a campaign). If the manager permits self-service, advertisers can do it on their own. Otherwise, the manager must submit their campaigns.
Pricing models:
CPM – cost per 1000 impressions
CPC – cost per click
CPA – cost per action (involves conversions tracking)
For more details read Conversion tracking.
The revenue and profit of the manager are directly impacted by the campaign's rate since it determines how much the advertisers must pay for their advertisements. We advise you to set minimum rates to regulate rates.
Publisher options setup
To set up a publisher account go to Settings / Common / Publisher:
Enable publishers to register (or added manually when disabled)
Self-service (or manage manually when disabled)
Allow payouts (publishers enabled to request payouts)
Publisher payout requests by default only have one payment option (PayPal). Upon request, we may include more options.
A default prioritisation mode is one of the most important components of these settings. More information is available in section ads prioritisation. Since it directly influences how advertisements are displayed, we recommend reading the section before deciding which prioritisation model is best for you.
Please read below for a more detailed explanation of the publisher/SSP choices.
System components setup

The following settings are adjustable through the Settings menu:

Settings / Formats. You may enable/disable ad formats on your panel using this menu. You can start with using simple ad types like Image Banner, Direct Link, or VAST and then upgrade to more complex ad types.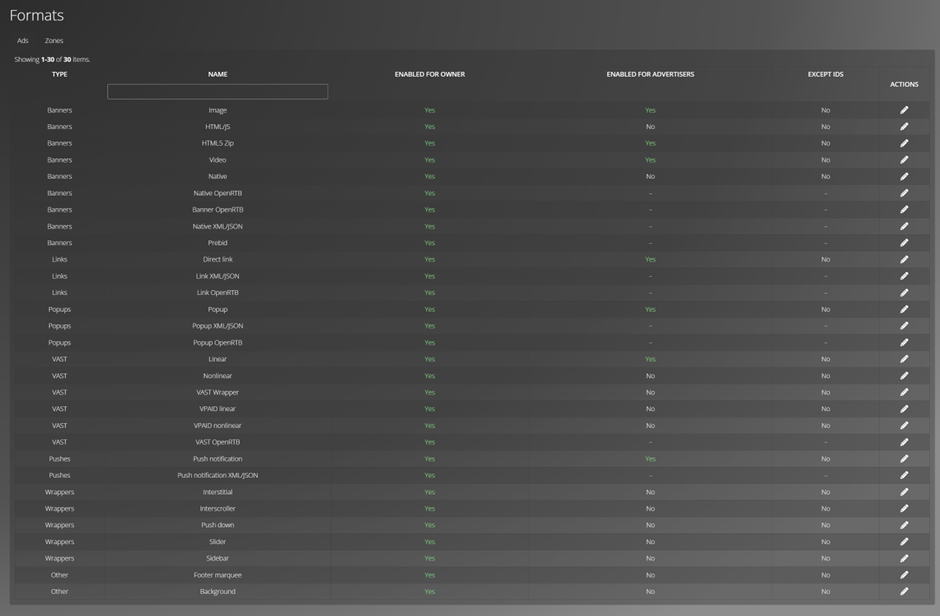 Settings / Dimensions. You may create a list of the banner sizes that are permitted on your network using this menu. In the beginning it can be a good idea to use only a few common dimensions (e.g. 300×250, 728×90, 160×600) and then upgrade to more complex ones.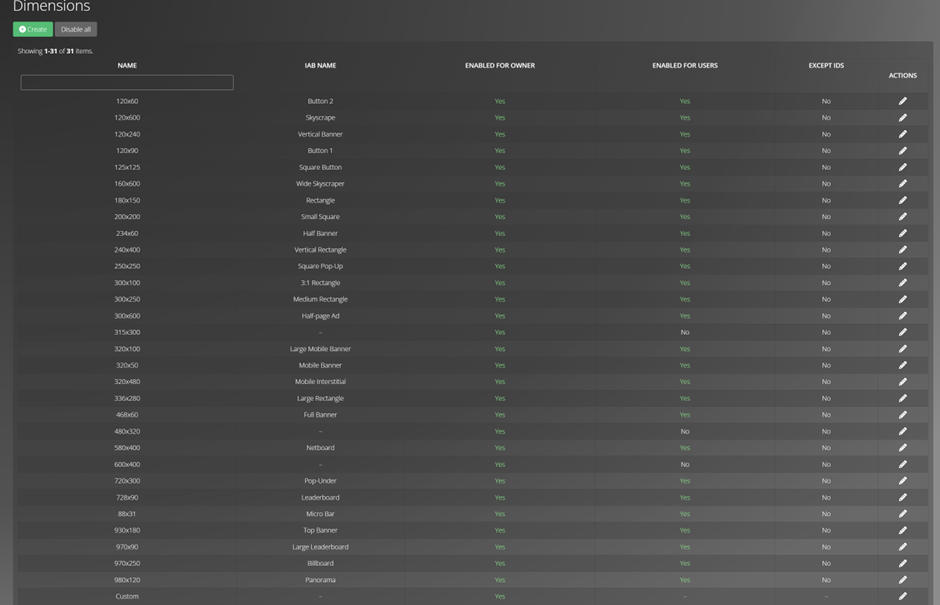 Settings / Pricing model. Pricing models that are available to your advertisers can be enabled or disabled from that menu. You can start with CPM and CPC models in the beginning because CPA could be a little more complicated to set up.

Financial management

Our AVOD solution does not manage the financial partnership between you and your publishers or advertisers. We don't process incoming or outgoing payments, hold or collect your money, etc. because we are not a financial institution.


Our platform only does calculations. Therefore, we recommend that you have the Automatic billing under Settings / Common / Finance set up. It generates transactions based on statistics for both advertisers and publishers.

so that your advertisers can immediately top up their accounts from their panels. Once linked, funds from your advertisers will be sent directly to your account, saving you the time and effort of processing everything manually.

For your convenience, more payment choices can be added to the publisher panel. Although publishers can request payouts using our platform, actual payouts must be handled manually.


NB:
The fundamental component of the platform's financial system is transactions. Managers of accounts have complete authority over this area. Ad-serving statistics, however, are read-only and cannot be modified, amended, updated, and etc.
Summary

By following the instructions in this manual, you'll be able to build up an ad network with publishers and advertisers that is completely operational. No matter if you choose to manage processes yourself or allow your publishers and advertisers to use the self-service function, our platform can manage it all.

The targeting parameters will guide the implementation of the campaigns and statistics, as well as tracking of the expenditures by advertisers, and revenue earned by publishers. Additionally, you will get all important notifications about your users' behaviour and your own account as the account manager.