Windows N/Server Versions Media Features Installation
Since Windows 7 there are versions Windows which have N suffix after the version. These versions do not include the media features pack and on them our applications will not install or work properly. For Windows 10 there are different versions of Media Features Pack depending on the build, the latest one as of now is 1909 and there isn't a standalone features pack available. It can be installed via optional features.
Navigate to Apps > Optional Features > Add a feature > Click on Media Features Pack and then Install.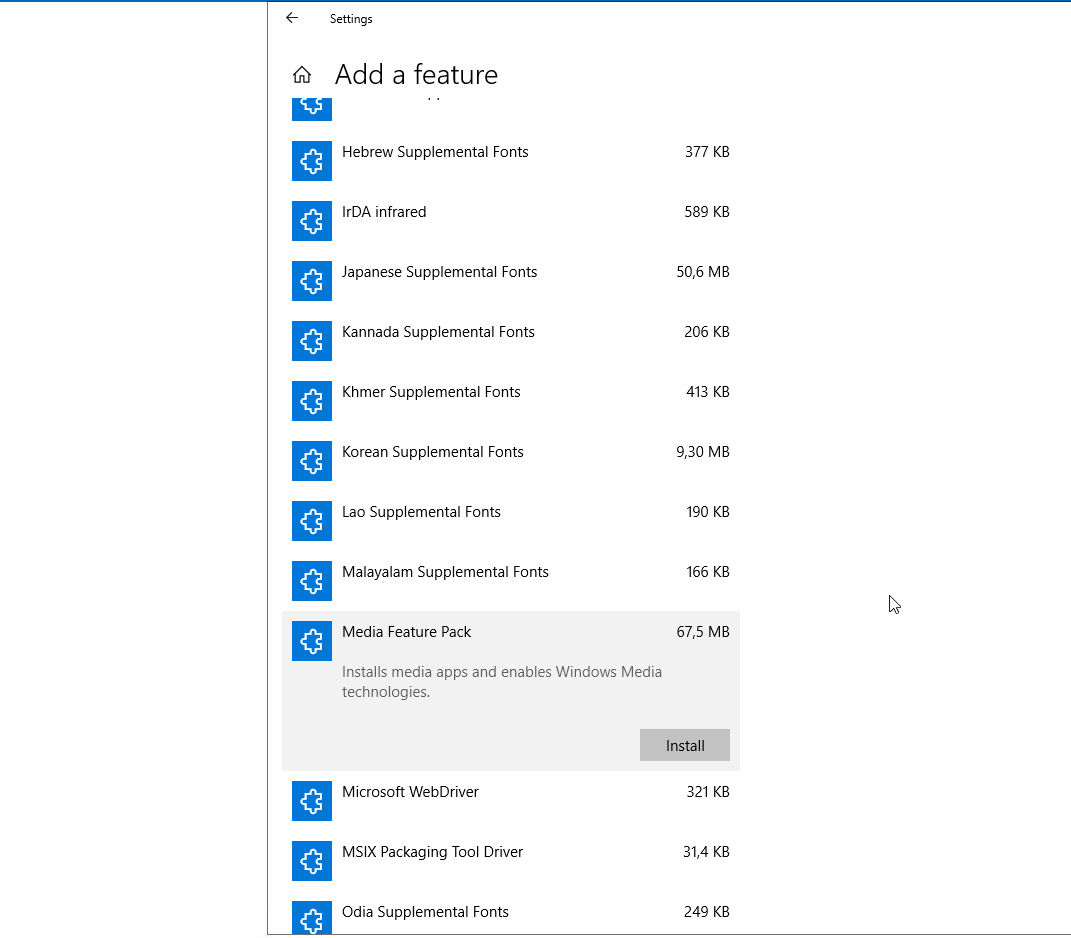 For Windows Server 2012 and later - in PowerShell with Admin privileges execute

Related Articles

Is there a guide how to prepare Windows for Playbox Products?

Yes, there is a guide that helps you make the correct settings and install the right components of Windows 10 before installing Playbox Products. Please see them below: Please contact our Support Team at support@playboxtechnology.com if you need hep ...

Certified compression profiles and transcoding programs

Video Compression Format MPEG2, DV, HDV, WMV/VC-1, MPEG1, MPEG4, AVC/H.264, DVC Pro, JPEG 2000, AVC-Intra, Apple ProRes 422, DVCPro50, DVCPro HD, HAVC/H.265 Bitrate PAL / NTSC / 1080i HD / 720p HD / 1080p HD / 4K UHD 1 - 15 Mbit/sec in MPEG2 MP@ML • ...

Installation of Cosmos or Mega ICX

The link to the latest installation package of Cosmos or Mega ICX can be downloaded from PlayBox Technology UK Ltd website. 1. Download the file and follow the installation instructions 2. The configuration panel of Cosmos/Mega ICX and the App are ...

Proper installation of PlayBox GPI Relay Card Driver

In order to properly install the driver, first Driver Signature Enforcement would need to be disabled in Windows. This is done in the following steps: 0. In a cmd with admin privileges run the following command: bcdedit /set testsigning on 1. Open ...

Creating a Direct Show media object

NOTE: This object supports all direct-show compatible file formats, as long as you have the necessary filters installed on the PC. Select the object icon in the Object palette and draw a rectangle in the work area. Browse for a media file or select a ...